Contact Me for all your Chimney Needs.
Call Now! 07754 857957
How a Sweep should clean your Chimney
How a Derby Chimney Sweep should Clean Your Chimney
When you're looking for a chimney sweep in Derby, you want to be sure you get somebody who does the job right. So here is a brief breakdown of how a Derby chimney sweep should tackle the cleaning of your chimney.
How a chimney sweep should clean your chimney
The first thing a chimney sweep should do is measure up your chimney. Maybe you regularly use a sweep who already knows your measurements, but if you're hiring a chimney sweep in Derby for the first time, this is one of the most basic expectations. The measuring helps the sweep to determine the brush size needed
Your chimney sweep should place a protective cover over your fireplace before work begins. This will help to keep things tidy and keep mess to a minimum – cleaning chimneys is dirty work
Your chimney sweep may use one of many methods, but there are two more common methods. The bottom-up method involves the sweep cleaning your chimney from the fireplace end, which is the preferred method by many. Rods can be added to the brush to reach the top as needed, and this method is generally faster – and cleaner! This is because when cleaning from the bottom up, the fireplace can be sealed off to prevent soot from falling into your living room. If your Derby chimney sweep offers you a choice, opt for the bottom up method which allows him or her to seal off the fireplace area and clean from the bottom of the chimney. Although there is often a little more legwork involved, it means there is less chance of getting soot on your carpet. Cleaning from the top down is done under exceptional circumstances. It tends to be messier and involve more cost as it means going on the roof.
The smoke test is one of the most important steps aside from the cleaning itself, and ensures that all blockages are removed and your chimney offers smoke from your fire clear access to the outside world. During the smoke test, your Derby chimney sweep should ensure that all smoke created at the bottom of the chimney travels right the way to the top
Can I clean my chimney myself?
The steps listed above are so you know what you might expect – cleaning chimneys is difficult though, and you shouldn't use the above steps to attempt cleaning your chimney yourself. If you are prepared to learn in great detail how to clean your chimney safely, then by all means go ahead – but if you want the best result without having to spend a long time learning, you need a professional Derby chimney sweep to help you – one who has already done the training and has years of experience under his or her belt.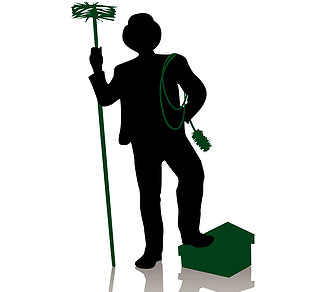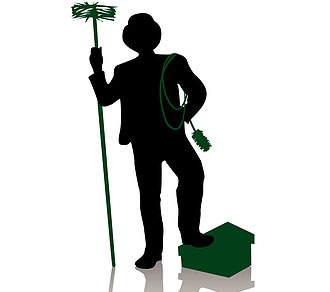 Chimney Sweeping ( Power Sweep )
Fitting of Pots / Replacing Cracked Pots
Fitting of Liners and Flues
Sweeping Wood / Multi Fuel Burners
Fitting of Wood / Multi Fuel Burners